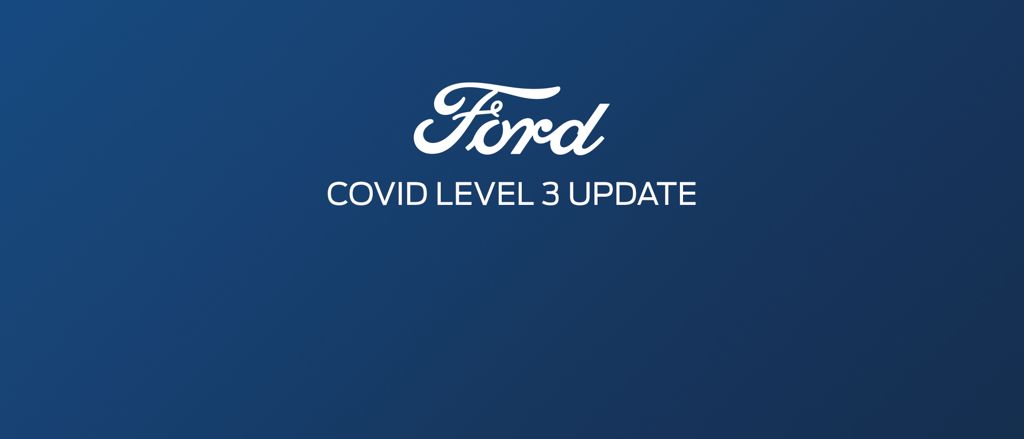 COVID LEVEL 3 UPDATE
The move to Alert Level 3 means our Sales, Service and Parts Departments are able to operate, although things will be a little different than what we're all used to.
As always, we're doing everything we can to make things easy for our customers whilst prioritising your the health and safety, along with that of our team.
Here are the measures we'll be taking to ensure the safety of Team Hutchinson Ford customers and staff:
No public entrance/access to buildings. If you would like to arrange a test drive, drop-off to the service department or pick-up of parts you must make an appointment. You can do this by following the links below, or calling 03 379 3440.
All customers must sign in when entering our premises. NZ COVID Tracer App QR codes will be displayed, and a physical check in log will be supplied to those without access to the app.
All staff will be wearing masks and maintaining a 2 metre distance from customers and other staff members at all times.
Hand sanitiser will be readily available to customers and staff.
Contactless test drives
Vehicles will be sanitised prior to and after each test drive.
Customers will not be accompanied by Team Hutchinson Ford staff.
Contactless vehicle pick-ups and drop-offs for service customers
Vehicles will be sanitised prior to and at the completion of work
Contactless pick up for parts
Logging of staff attendance each day
Regular sanitising of all touch points within the dealership.
Servicing and WOF
For vehicle servicing, repairs and WOF you can now contact us to arrange a booking. Bookings missed due to Level 4 Lockdown have been rescheduled. Please reach out to us if you have not been contacted in regards to yours.
Vehicle Sales
Our vehicle sales team are ready to get you behind the wheel of your next vehicle.
Browse our range of new, used and demonstrator stock here, then contact our team to arrange a contactless test drive.
Request a Test Drive Contact Us
Finance
Considering Finance? Chat to our team to find out how we can help
Parts
We are able to provide contactless pick up or arrange delivery for your parts. Contact us to find out more.
Bridgestone Tyres
The teams at Bridgestone Select – Hornby and Bridgestone Tyre Centre – St Asaph Street are ready to assist their valued customers. Contact them today!
CONTACT BRIDGESTONE – SELECT – HORNBY CONTACT BRIDGESTONE TYRE CENTRE – ST ASAPH STREET
Important Notes:
• Please be aware that under restrictions for Level 3, you will not be able to enter our buildings. This is why we are requiring appointments for service, parts and sales to be pre-arranged. If we are looking after your vehicle, you will also not be able to wait on our premises. This is to ensure groups do not gather and customers are able to visit for their appointments while keeping a safe distance from others.
• All appointments must be pre-arranged. Even then, please only do arrive for your appointments if you are healthy and have not been unduly at risk from COVID-19 in the past 14 days. Children are not permitted on the premises but you may bring one healthy adult from your bubble with you for the purposes of assisting you with transport.
• You can be assured that we are paying extra attention to vehicle and premises cleaning during this time.
We appreciate your understanding across this difficult period, and look forward to seeing you soon.