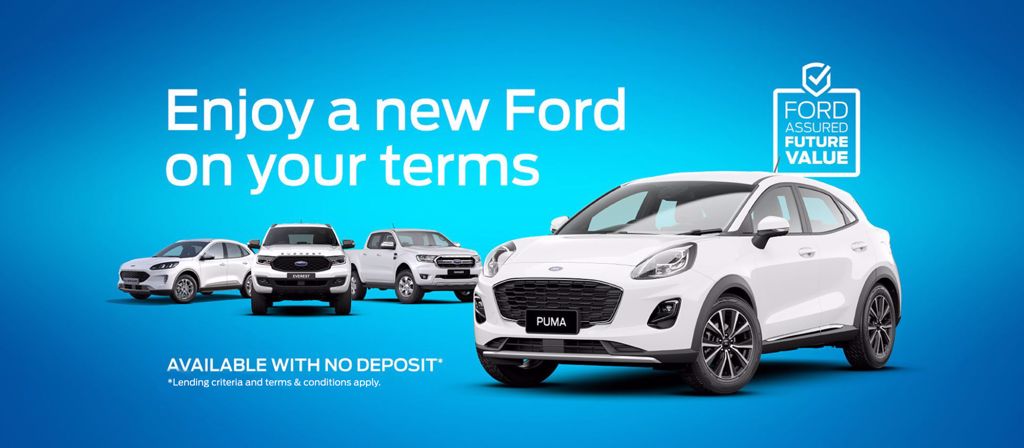 Enjoy a new Ford on your terms!
With Ford Assured Future Value you'll have a flexible finance solution that gives you peace of mind form the moment you get your new vehicle… and your next one.
Not only will you have the certainty of low fixed repayments, you'll also have three great options at the end of your agreed term. Plus you can renew at any time!
It all means you can enjoy a new Ford more often.
Here's how it works
FURTHER INFO
CHOOSE
Start by choosing the new Ford model you want
AGREE
Choose the contract term which suits you best. Either 36 or 48 months. Next, agree on the annual kilometre allowance (15,000 or 20,000 km per year). This means you'll only pay for the kilometres that you'll actually use. After that, you can choose your deposit amount (if any). This will give you the option to reduce your repayment to fit your budget. Note: Ford Assured Future Value is available with no deposit – terms and conditions apply.
GET
Finally, we'll calculate the Assured Future Value using the kilometres and term of the loan. After that, you can get behind the wheel of your brand new Ford!
COMPLETE
At the end of your term, you have three options.
Renew: upgrade to a new Ford by contributing the equity you've built up across your FAFV period.
Retain: If you'd like to own your vehicle at the end of your agreed term, you can negotiate a new finance agreement or pay the balance to buy it outright
Return: If you decide to return the vehicle, then provided you've made all your monthly payments, the vehicle meets fair wear & tear and is within the agreed kilometre allowance, then you just need to pay the return fee and walk away.
Contact Us
Need more info or ready to sign up? Contact us today to enjoy a new Ford on your terms!
Contact Us View All Vehicles View Fords Wear & Tear Guide
This Ford Assured Future Value offer is valid while stocks last at Participating Ford New Zealand dealership only. Ford Assured Future Value is available on all Ford vehicles only through My Ford Finance. Repayment information for loans with a Ford Assured Future Value agreement is available via your local Ford dealership and will be based on the Recommended Retails Price, the kilometre allowance under the relevant Ford Assured Future Value agreement, the applicable fixed interest rate, the loan term, and the amount of deposit (if applicable). The total amount payable over the term of the loan for each model is also shown in the table and all interest rates shown are fixed for the term of the loan. On-road costs, a $105 UDC establishment fee, $10.35 PPSR and Dealer Origination Fee each apply where a Ford vehicle is financed through UDC Finance Limited. UDC Finance standard terms, conditions, lending and credit criteria apply to any UDC loan. UDC Finance Assured Future Value terms and conditions apply to any Ford Assured Future Value contract. If these conditions are not met, the option to return the vehicle for the assured future value at the end of your loan term may not be available, and the outstanding loan must still be repaid in full.