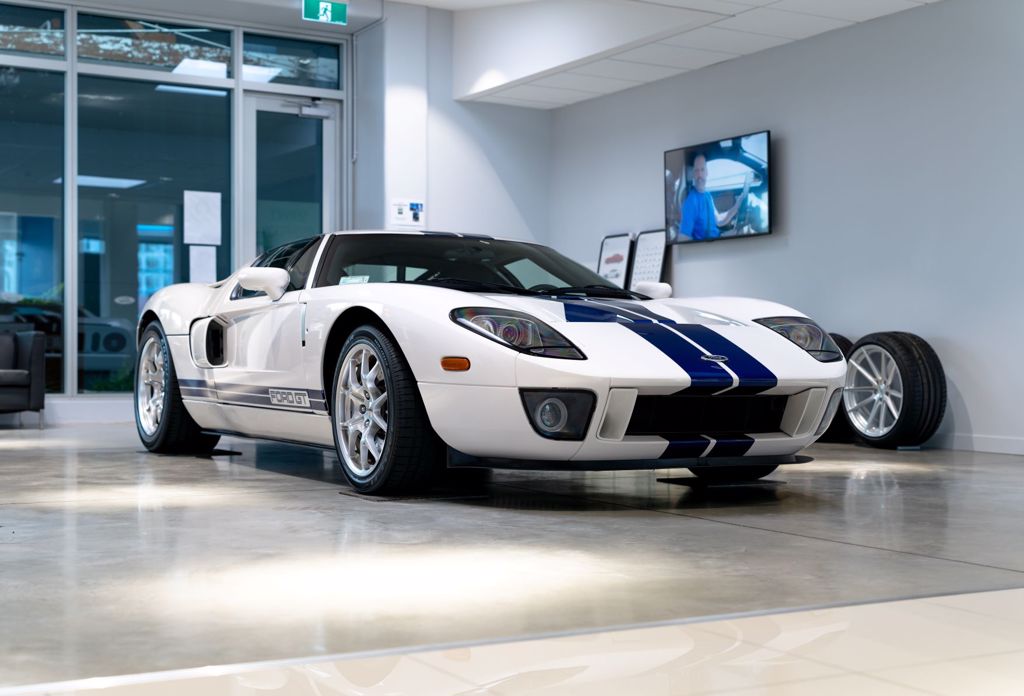 Ford GT 2005 on Display at Team Hutchinson Ford
5.4 Litre, 32-valve supercharged V8 engine that produced 550 hp, 6-speed manual transmission.
0 to 60 mph in only 3.5 seconds.
Top speed electronically limited to 205 mph.
Options McIntosh sound system, racing stripes and painted brake calipers.
The supercar won the 24 Hours of Les Mans four times, 40 years later, Ford wanted to revive the GT40 nameplate and assign it to a brand new road-legal supercar. Unfortunately, the GT40 was already a registered trade-mark and the new model was simply named "GT".
The GT was produced between 2004 – 2006, with only 4,000 examples being built. The concept car first appeared in 2002 at the Detroit Auto Show. The final version was "bigger, wider and taller" than the 60's model. The new GT ran on BBS alloys (18-inch front, 19-inch rear) and the Goodyear Eagle F1 tires. While the interior kept the feeling of the GT40 heritage, it was nicely blended with modern features.
This outstanding example is part of a customer's private collection, and is currently on display in the Performance Car Showroom at Team Hutchinson Ford.
News