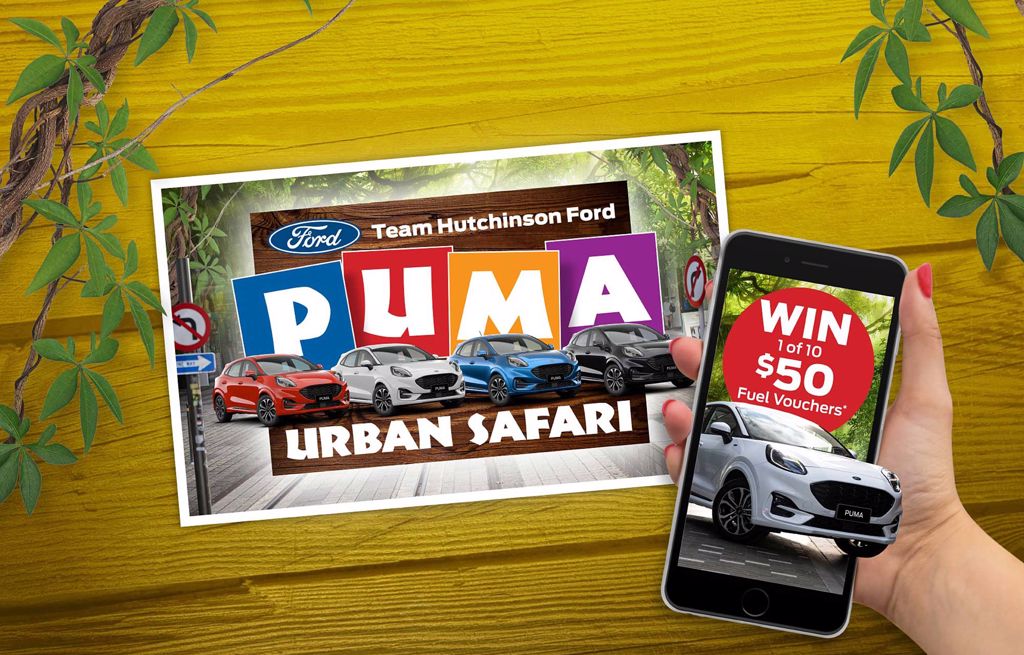 Join Team Hutchinson Ford on our Urban Jungle Safari and win!
Hunt down our 'Puma Pack' prowling around Christchurch on Saturday 27th February, snap a pic and share it on our Facebook page for the chance to win 1 of 10 $50 fuel vouchers!
The 'pack' will be stopping to rest in different spots around town, making it even easier for you to capture a photo of them in their natural habitat.
Check out the list of times and locations below.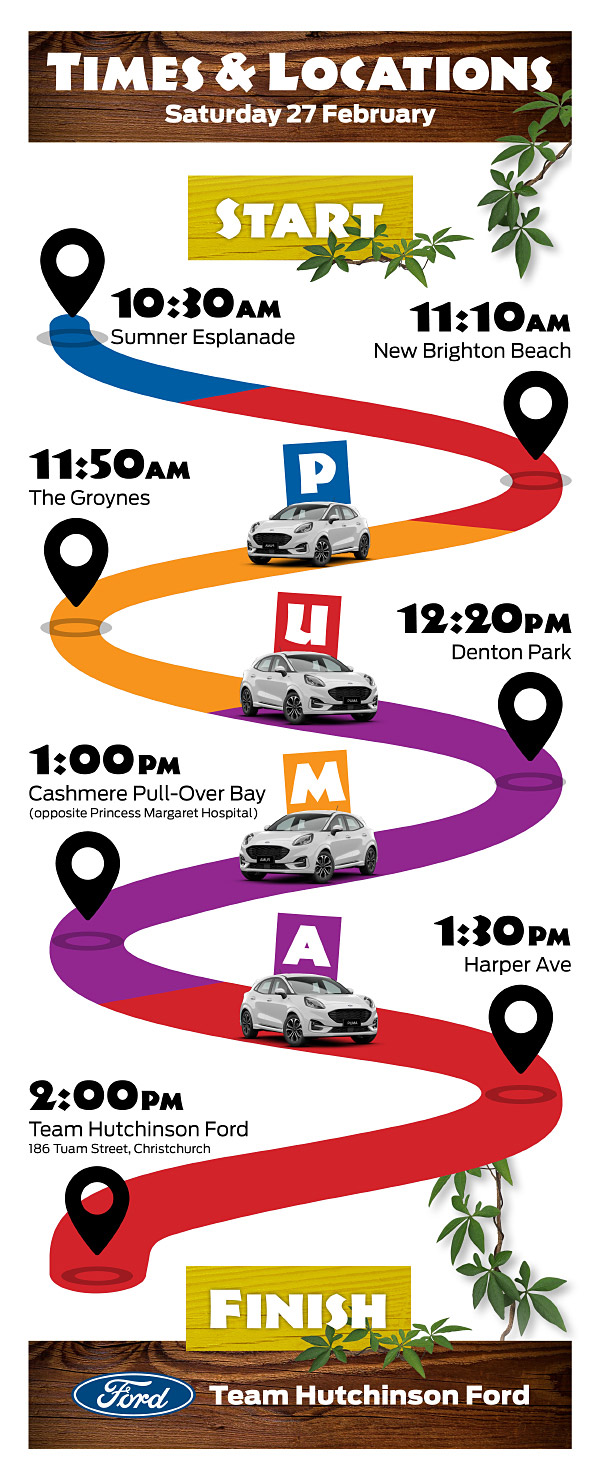 The Ford Puma delivers high levels of sophistication and comfort, packed in a small city SUV – perfect for navigating through the urban jungle!
To learn more about the Puma and browse the range available at Team Hutchinson Ford, follow the links below.
Explore PumaView Puma Range Read Puma Review
Competition T's & C's:

TERMS AND CONDITONS

1. Team Hutchinson Ford are giving away 10 x $50 MTA fuel vouchers through our Urban Jungle Safari.
2. These are the terms and conditions ("Terms") which apply to the 'Urban Jungle Safari' promotion ("Promotion"). Information on how to enter the Promotion forms part of these Terms. Make sure to read these carefully as they set out the eligibility criteria, the rules of the Promotion and details of the prize.
3. The Promotion will commence on 22/02/2021 and will close 03/03/2021 ("Promotion Period"). All Entries must be received before the Promotion Period ends in order to be eligible to win the prize.

ELIGIBILITY CRITERIA

4. The Promotion is only open to individuals who:
a. meet all criteria (including the Eligibility Criteria noted below) set out in these Terms throughout the Promotion Period;
b. are New Zealand residents; and
c. are aged 18 years or over ("Entrant").
5. The Promotion is NOT open to individuals who have been convicted of a crime under the Crimes Act 1961.
6. Entry into the promotion is deemed acceptance of the Terms by the Entrant and acknowledgment that they satisfy all eligibility criteria.

HOW TO ENTER

7. To enter the Promotion, Entrants must comment on the promotional Facebook post in the manner described as the entry mechanism on the Team Hutchinson Ford promotional Facebook post ("Entry" or "Entries").
8. Once an Entry has been created, that Entry will become the property of Team Hutchinson Ford including, to the extent applicable, any information provided by the Entrant.
9. An Entrant can only create one Entry to be eligible for the Promotion. Multiple entries will not be eligible Entries.
10. The Entrant warrants that all information provided by them is correct. The Entrant also warrants that any image or text message submitted as part of an Entry does not infringe any third party rights including, but not limited to, any third party intellectual property rights.
11. To the extent an Entry infringes these Terms including, but not limited to, infringing a third party's rights, the Entrant agrees to indemnify and hold Ford, its directors, agents and associated entities harmless from all claims, loss or damages suffered by them as a result of the Entrant's breach.
12. The Entrant (including if they are the Winner as noted below) gives Team Hutchinson Ford and their associated companies permission, for an indefinite period of time (unless otherwise advised), to use their name, and any information submitted as part of the Entry, for the purposes of the Promotion and/or any other promotional marketing, publicity, research and profiling purposes in the future. These purposes include sending electronic messages or telephoning the entrant. Team Hutchinson Ford will not be required to seek the Entrant's permission or compensate them for any such use.
13. The judges' decision in relation to any aspect of the Promotion will be final and binding on every person who enters. No correspondence will be entered into.
14. Entries must not be offensive, defamatory or racist. Any Entry which the judges deem inappropriate will be invalid. The Entrant agrees to indemnify Ford for any losses in this regard.

HOW TO WIN

15. This is a game of chance. An Entrant will be selected through a random draw process by Team Hutchinson Ford.
16. Team Hutchinson Ford will contact the selected Entrant to confirm whether all eligibility criteria are satisfied. If the selected Entrant satisfies all eligibility criteria under these Terms, they will be declared the winner ("Winner").
17. If the selected Entrant does not satisfy all eligibility criteria as determined by Team Hutchinson Ford, a new Entrant will be drawn in accordance with the above process, and the process repeated, until a Winner is selected.

PRIZE DETAILS

21. The Winner(s) will receive:
a. One of ten $50 MTA vouchers
22. If the Winner does not respond within 12hrs of being notified, or if they are found to have breached these Terms, they will forfeit the Prize and another Winner will be selected and contacted in accordance with the above.
23. If the Winner does not respond to any correspondence from Team Hutchinson Ford within 12hrs of the correspondence being sent, Team Hutchinson Ford reserves the right to declare them as having forfeited the Prize and select another Winner in accordance with the above.
24. The Prize does not cover any costs incurred other than what is specified in the Prize details.
25. No portion of the Prize is redeemable for cash (unless otherwise stipulated). The Prize is not refundable or transferable and is subject to all restrictions as set by Team Hutchinson Ford and the Prize providers.
26. The Winner is not able to on sell the prize.
27. Team Hutchinson Ford and its associated agencies and companies will take no responsibility for any issues associated with accessing the Promotion or using the Prize.
28. It is a condition of awarding the Prize that if requested to do so by Team Hutchinson Ford, the Winner will sign and return any affirmation of eligibility to enter, ownership of entry, confidentiality agreement and/or release and waiver forms provided to the winner by Team Hutchinson Ford. Failure to return the signed statements/forms will result in the entitlement to the Prize being forfeited.

GENERAL

31. Team Hutchinson Ford, in its sole discretion, reserves the right to modify, cancel, terminate or suspend the Terms and Promotion at any time, subject to any regulatory obligations it may have.
32. Each Entrant acknowledges and agrees that:
a. the Promotion is administered by Team Hutchinson Ford;
b. the Promotion is in no way sponsored, endorsed, administered by, or associated with, Facebook;
c. they are providing information to Team Hutchinson Ford and not to Facebook; and
d. to the fullest extent permitted by law, Facebook (including its officers,
employees, and agents), will not be liable in any way (including negligence) for any loss or damage (including loss of opportunity), whether direct, indirect, special or consequential, arising in any way out of the Promotion.
33. Any cost associated with accessing the app/Facebook platform is the Entrant's responsibility and is dependent on the Internet Service Provider used.
34. On drawing and contacting the Winner, the Winner's first and last names (which form part of their successful Entry) may be used within an announcement post.
35. The use of any automated entry software or any other mechanical or electronic means that allows an Entrant to automatically enter repeatedly is prohibited and will render all Entries submitted by that Entrant invalid.
36. Team Hutchinson Ford reserves the right, at any time, to verify the validity of Entries, Entrants and Guests (including an Entrant's or their Guest's identity, age and place of residence) and to disqualify any Entrant who submits an Entry that is not in accordance with these Terms or who tampers with the Entry process. Failure by Team Hutchinson Ford to enforce any of its rights at any stage does not constitute a waiver of those rights.
37. Team Hutchinson Ford assumes no responsibility for:
a. any error, omission, interruption, or delay in the operation or transmission of any communication including, but not limited to, submitting any Entry or sending any email communication to Team Hutchinson Ford by any Entrant (or by Ford to any Entrant) whether caused by problems with communication networks or lines, computer systems, software or internet service providers, congestion on any carrier network or otherwise;
b. any theft, destruction or unauthorized access to, or alteration of such communications; or
c. any problem with, or technical malfunction of, or capability issue (or lack thereof), relating to any computer system, smart phone or other equipment used for the conduct of the Promotion.
38. If, for any reason, the Promotion is not capable of running as planned, including due to infection by computer virus, bugs, tampering, unauthorised intervention, fraud, technical failure or any other causes beyond the control of Ford, which corrupt or affect the administration security, fairness or integrity or proper conduct of this Promotion, Team Hutchinson Ford reserves the right in its sole discretion to take any action that may be available, subject to any New Zealand laws and/or regulations.
39. Team Hutchinson Ford will not be liable if the Prize cannot be taken up due to an event not reasonably within its control having exercised reasonable diligence, including but not limited to if there is a fire, storm, flood, earthquake, act of God, war (whether declared or undeclared), acts of terrorism, industrial dispute, blockade, lightning, explosion or meteor event, governmental restraint, expropriation or prohibition.
40. Except for any liability that cannot be excluded by law, Team Hutchinson Ford (including its officers, employees and agents) excludes all liability (including negligence), for any personal injury, or any loss or damage (including loss of opportunity), whether direct, indirect, special or consequential, arising in any way out of the Promotion, including, but not limited to, where arising out of the following:
a. any technical difficulties or equipment malfunction (whether or not under the Ford's control);
b. any theft, unauthorised access or third party interference;
c. any Entry or Prize that is late, lost, altered, or misdirected (whether or not after its receipt by Team Hutchinson Ford) due to any reason beyond the reasonable control of Team Hutchinson Ford;
d. any variation in the Prize to that stated in these Terms;
e. any tax liability incurred by an Entrant; or
f. the use of the Prize.
41. Nothing in these Terms is intended to exclude, restrict or modify a consumer's rights under the Consumer Guarantees Act 1993. These terms and conditions must be read subject to those statutory provisions and will not affect any statutory rights that an Entrant may have in relation to the return of a Prize.
42. Team Hutchinson Ford, in its sole discretion, reserves the right to cancel, suspend, terminate or modify the Promotion or any part of the Promotion if fraud, technical failures or any other factor beyond Ford's reasonable control adversely affects its ability to conduct the Promotion or part of the Promotion as contemplated in these Terms. Any cancellation or modification to the Promotion will be notified on Team Hutchinson Ford's Facebook page.
43. Team Hutchinson Ford collects personal information in accordance with its Privacy Policy (which can be found at http://www.ford.co.nz/privacy-disclaimer) in order to conduct the Promotion. Team Hutchinson Ford may, for this purpose, disclose such information to third parties, including, but not limited to, agents, contractors, service providers, offer suppliers and, as required, to New Zealand regulatory authorities. Validity of an Entry is conditional on providing this information.
44. Entrants have the right of access to, and right to request correction of, their personal information. Entrants should direct any request to access, update or correct information to Team Hutchinson Ford at PO Box 440, Christchurch 8140, New Zealand, or alternatively email [email protected]
45. These Terms are governed by New Zealand law.Team Hutchinson Ford collects personal information in accordance with its Privacy Policy (which can be found at http://www.ford.co.nz/privacy-disclaimer) in order to conduct the Promotion. Ford may, for this purpose, disclose such information to third parties, including, but not limited to, agents, contractors, service providers, offer suppliers and, as required, to New Zealand regulatory authorities. Validity of an Entry is conditional on providing this information.
46. Entrants have the right of access to, and right to request correction of, their personal information. Entrants should direct any request to access, update or correct information to Ford at: Team Hutchinson Ford, PO Box 440, 8011, Christchurch, or alternatively email [email protected]
47. These Terms are governed by New Zealand law.
News